Chionin Temple is the headquarter of Jodo Buddism School established by Honen. The steep stairs inside the Sanmon gate called male slope was used when the film, Last Samurai was shot.
The bell is one of the three great bells in Japan, made of bronze in 1636, weigning 70 tons.
The bell was used for sounding the hours of the day, however we strike 108 times on New Year's eve to expel our worldly sins now.
Young monks practiced to strike on 27th of Dec. While 16 monks keep time with pulling the ropes, the 17th monk strikes the bell using his all mind and power.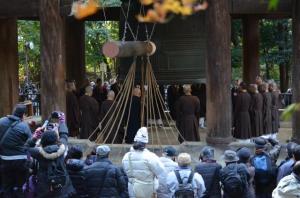 We have a trainee monk joining from Tohoku, the tsunami hit area. It is very special for him and all people in Japan.
スポンサーサイト