What strikes you most at restaurants are food samples. It's easy to know what you're going to eat, because it's so real.
Making a sample of food started by using wax in a mold made of agar. The introduction of vinyl chloride instead of wax was a revolution in technology.
Here at Morino Sample Corporation you can experience the presentation of a cake or pafeit. Each part is already prepared. We only choose ingredients like strawberry, raspberry, kiwi, etc. and present them on a mound with cream made from silicon.
Real food is used to make a mold of silicon. Fluid vinyl is poured into the mold, solidified, painted and coated to complete. Most of the ingredients are made individually, then they are presented on the dish, just like the final part of the real cooking.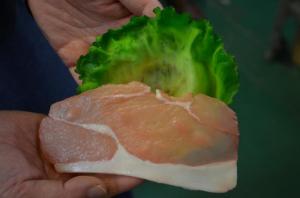 Hands-on Experience like a making a food sample is one of the popular activity not only among families, but among young couples. It's fun! There is no mistake. Everything is the work of your personality.
Morino Sample Corporation
is 10 minutes walk from JR Hirano Station, which is 5 minutes ride by JR Kansai Line from Tennoji Station in Osaka. Hands-on experience is available only on weekends.
スポンサーサイト